Booking software for Driving Instructors
Must have functionality for managing a driver instruction and training business:
Online driving lesson bookings & payments 24/7
Online lesson voucher purchasing with integrated booking redemption
Automated email & SMS to students and instructors for booking confirmations, voucher purchases and reminders
Student dashboards to manage their own bookings
Instructor dashboards to manage lesson scheduling and their availability
Student information including lesson history, purchases and vouchers
Detailed reporting for bookings, purchases and voucher usage
Cater for pickup address, Student License number, Keys2drive codes
White-label solutions with your business branding
STUDENT BENEFITS
Students can book and pay themselves online 24/7
Students can purchase lesson voucher packages themselves 24/7
Students can manage their own booking modifications and cancellations via their own dashboard
Students can check availability without having to call
Students receive automated (email and SMS) booking confirmations (immediately) and reminders (24 hours prior to the booking time)
Young adults prefer to communicate online rather than call
INSTRUCTOR BENEFITS
Instructors can make and manage booking themselves from their own dashboard
Instructors can easily control their availability and block times, day and date ranges when unavailable
All booking details in one place
Ability to run a cashless business
Reduces no-shows as customers pay upfront and receive automated reminders
Instructors are automatically notified of new/modified/cancelled booking via email and SMS
Pickup locations address is displayed on Instructor dashboard that links to maps Booking and Mini website that can be linked to Instructors website and Facebook page
More exposure online as Google will index their booking and voucher purchasing pages. New customers can find you in their Google search results
REPORTS
Must have full access to all the data for producing reports on the screen or download to use in Excel.
Purchase reports including fees
Booking reports including cancelled bookings
Voucher reports including usage amounts and liability
Activity reports outlining the bookings completed and franchisee & payment processing fees
Client booking & purchase history
INTEGRATED PAYMENT PROCESSING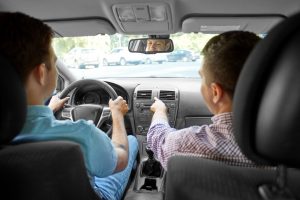 Needs to have the Uber factor for processing payments to remain competitive. When a student makes a booking or purchase they need the option to store their card payment details. Any further bookings and purchases can then use the stored payment details instead of entering card details again. This make the booking and purchase process quick and easy.
AUTOMATED NOTIFICATIONS
Email and/or SMS notifications must be able to be automatically sent to students and instructors. All notifications must have  templates to allow for customisation and business branding.
Booking confirmations to students and instructors
Booking modification to students and instructors
Booking cancellations to students and instructors
Voucher purchases
Booking reminders
PICKUP LOCATIONS
It is mandatory to have the functionality for a student to provide their pickup location details at time of booking. The booking process needs to displays a list of locations for selection. The list contains the locations where the Instructors operate.  Once a location is selected the Instructors that operate in that location are listed for selection. Selection of an Instructor displays dates and times when the Instructor is available to take lessons. A street address must be entered to indicate where the student wants to be picked up from. It is important that the pickup street address is correct for each booking as the pickup address could be different for every lesson booking.
MAPS INTEGRATION
The pickup address details must be visible from the Instructors dashboard and when selected provide directly access to Apple or Google maps.
TRAVEL TIMES
Software needs to cater for travel time between lessons by adding a fixed amount of time at the end of a lesson booking.
The fixed amount of travel (break time) can be set per lesson type.  As travel times vary across locations (congested or rural locations) where Instructors operate each account can set different duration for their travel time.
INSTRUCTOR DASHBOARDS
Instructors must have their own dashboards for managing their bookings.
Must be able to:
See all future bookings
Add modify and cancel bookings
Define their availability and block out time, days and date ranges
Update booking status
Run reports
STUDENT DASHBOARDS
Students must have their own dashboard branded as your Driver Training School.
Must be able to:
Add modify or cancel bookings
Update their profile details (Name, email, phone, password etc.)
Purchase lesson packages
Link to other products and services offered by your business
STUDENT INFORMATION
Capturing all relevant information during student registration and time of booking will reduce double entry and filling in forms and will improve student experience with your driving school.
Important Student registration information includes:
Student email, mobile for notifications
Student license number
Emergency contact details
Important Booking information includes
Pickup location for this booking
Keys2drive codes for Keys2drive bookings
Agree to the T&C's
DESIGNED FOR ANY DEVICE
The software must be web based with a responsive layout that can be used on any internet connected device anytime anywhere. Must be Smartphone friendly and works on Safari, Chrome, Firefox and IE browsers.
All these features will help make it easier for learner drivers and instructors.